Karen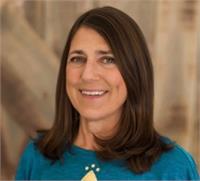 If you had to describe yourself in one word, what would it be? Willing – to try, to explore, to create, to help, to understand, to discuss, discuss, discuss,


If your life was a soundtrack what would your theme song be? Climb Every Mountain – Sound of Music
What type of student do you recommend take your classes? All types! I enjoy working with new students, students with mobility/strength issue and the experienced yogis. I really like students who come to class with an open and inquiring mind, willing to try something new or a different approach to a pose. I'm really passionate about alignment based Yoga and BKS Iygenar style Yoga. I'm working more of that approach into my practice and classes with a kind, gentle, and creative approach.
What does Yoga mean to you? By practicing Yoga I have opened myself up to the possibilities. The chance to really feel and understand better my body and mind. My spiritual practice is evolving too. I have been able to be less judgmental about situations and people, be more willing to be flexible (mind, body and spirit), and open to new things. Yoga has helped me in the fear arena too. I am less fearful and willing to take more risks and experience the "new". I breathe a whole lot better too!
Karen instructs the following:



In this class you will see a slightly faster flow which means that it is useful to be able to step forward and back from a plank pose to make transitions more easeful; however, as long as you can manage your body and expectations, that is all that is truly required. This class does offer arm balances and inversions on a regular basis as well as interesting flow sequences and pose variations to help keep your "beginners' mind". All of our yoga classes include pranayama and / or meditation as well as savasana. You'll leave feeling inspired, and refreshed.




This class focuses on integrating principles of alignment, inner and outer body awareness, breathing, relaxation and playful celebration of the heart. The use of props will allow you to open and expand into the poses. Poses are modified to meet the needs of each individual. Deepen the connection between your mind and body and discover the poses in a whole new way.




Gentle, flowing and relaxing yoga class where clients will explore and move slowly and deeply through the postures. Great for beginners or anyone who wants to move and breath deeply and wants to enjoy a more moderately paced class. Some arm balances and inversions may be taught, but it's the exception, not the rule. We always end with a few minutes of savasana at the end of class.