Katie S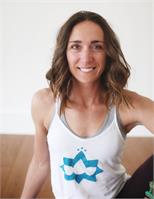 Katie S instructs the following:
In this class you will see a slightly faster flow which means that it is useful to be able to step forward and back from a plank pose to make transitions more easeful; however, as long as you can manage your body and expectations, that is all that is truly required. This class does offer arm balances and inversions on a regular basis as well as interesting flow sequences and pose variations to help keep your "beginners' mind". All of our yoga classes include pranayama and / or meditation as well as savasana. You'll leave feeling inspired, and refreshed.




The perfect way to begin your week; a slow and steady stream of postures that builds up your energy and steadies your mind for the week ahead.




Join us for this full 75 minute flow class for all levels. With this extra bit of time we'll have time to breathe, move, learn, meditate, relax and renew in a way that most of don't allow time for during the work week.